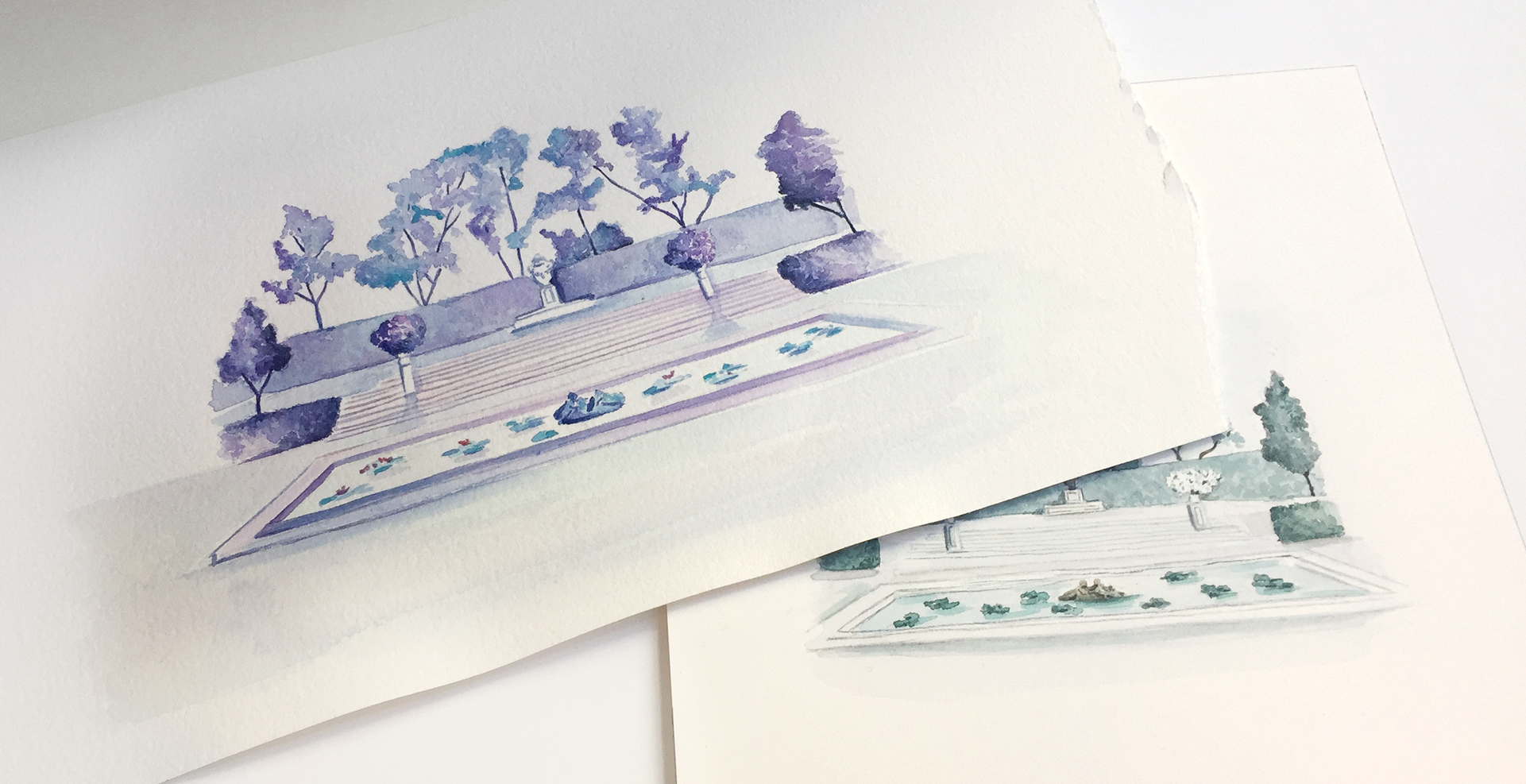 Among the trends and bestsellers we've encountered throughout the years, few have stuck around and have remained as popular as hand painted art. It's no surprise given how beautiful, unique and eye catching painted watercolor invitations can be when used with the right touches. They're a sure fire way of standing out from all other invitations and of putting your own unique spin and style into your stationery.
1. Illustrated Wedding Venue
One of the most popular requests we get is custom illustrations of the couple's wedding venue. Nothing gets guests more excited about booking their flights and hotel reservations than a snapshot preview of the beautiful wedding destination. This works especially well for weddings at special destinations or at locations with iconic architecture or surroundings. With the stroke of a brush, guests are immediately immersed in the vision of festivities to come. The invitation below was designed with a beautiful view of the couple's wedding venue on the Amalfi Coast.
2. Watercolor Monograms
Monograms are a traditional accent on most wedding invitations but why not take your monogram to the next level with a beautifully hand illustrated take on the all time classic. From lush foliage to painted animals and letters, our watercolor monograms are fun, vibrant and make the perfect statement that your wedding is not one to be missed. The vibrant monograms you see below for example were created for a couple getting married in Singapore. The watercolor mandarin ducks were a nod to their heritage as Mandarin ducks are a symbol in Asia for companionship.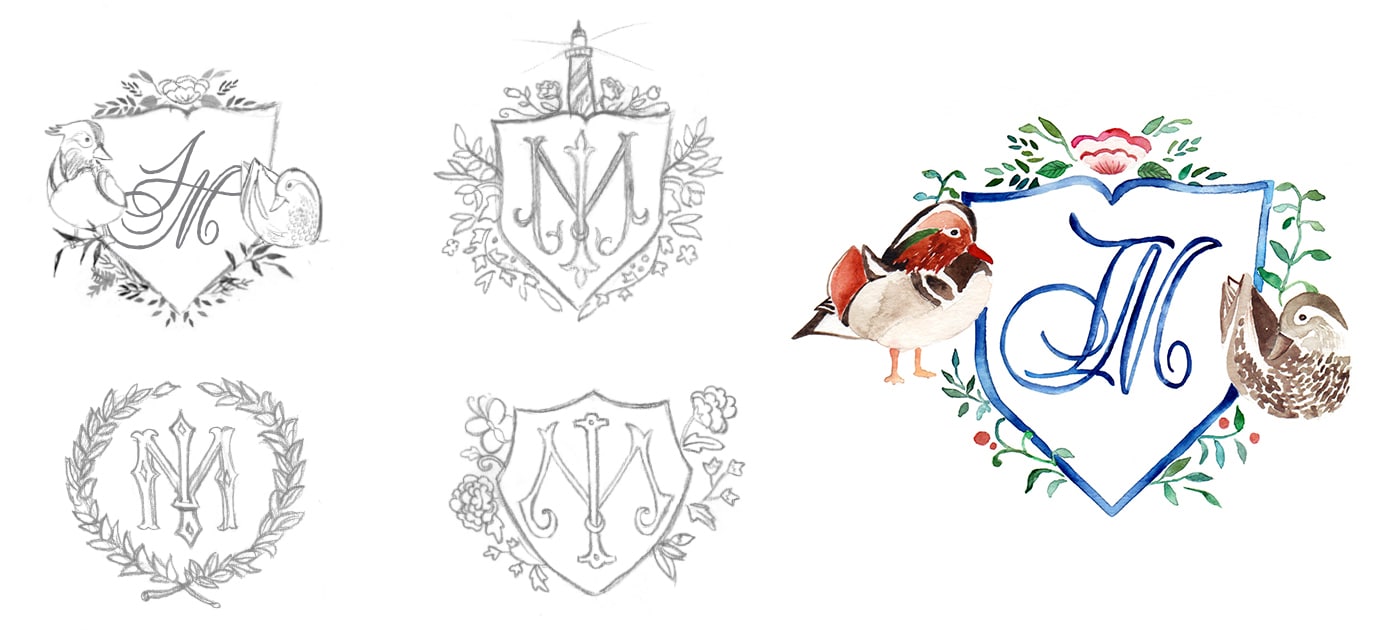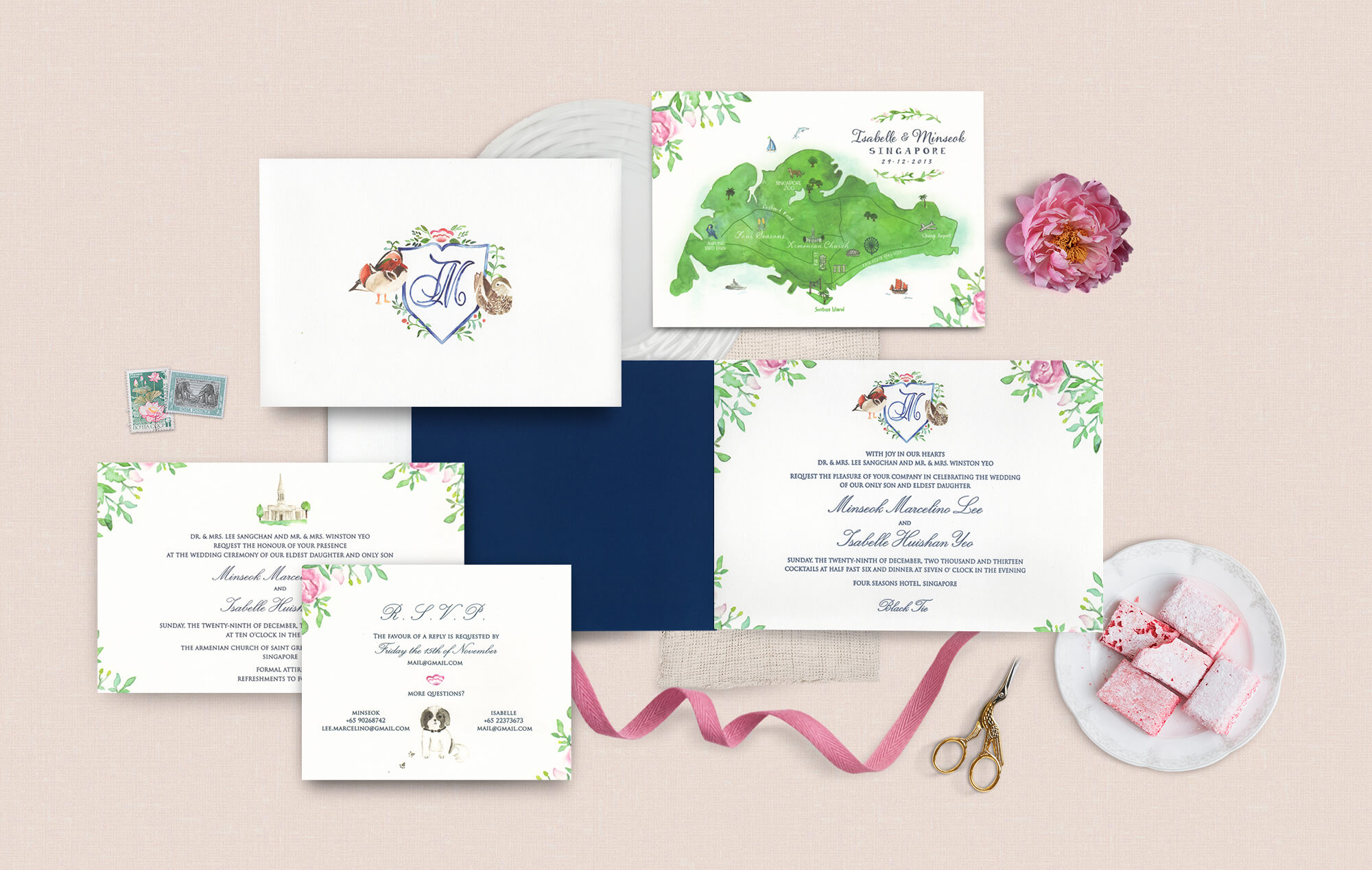 3. Painted "Spot" Illustrations
In the world of illustration, "spot" illustrations are illustrations that are used in certain areas as creative accents. This is perfect if you're going with a traditional look but want to use some touches of watercolor (albeit sparingly). Our clients often opt for vibrant hand painted details on accessory items like an rsvp card, or maybe an envelope liner. That way you can get the best of both worlds, a timeless and elegant invite but with touches of creativity and fun. The painted illustrations below for example were used on a small travel booklet which was included in the invitation mailer. It was a fun and creative piece that contained all the minute details of the wedding weekend. Bonus: the booklets were very small so they could easily and conveniently be packed in gust's carry-on luggage.
4. Painted Maps
One of our absolute fan-favorite invitation details is custom watercolor painted maps. Like the venue maps we discussed above, painted maps also entice guests and bring into focus the wedding's unique destination. From tropical maps in the Caribbean and travel sketch maps in South Africa to upscale grid maps of Manhattan we've seen and done it all! We often invite our couples to suggest some of their favorite restaurants and sights from around the area which we can then place across the map as a nod to the couple and as a suggestion for guests to fully experience what the neighborhood has to offer.
5. Painted Patterns
Although certainly not the last way of using watercolor in a wedding suite, another popular option is creating a custom motif with watercolor paints. This can be anything from floral patterns, geometric patterns or even deco patterns and they can decorate just about any area you can dream of on your invitation suite. Some of the most highly requested are on envelope liners or even the back of an invitation card. As you can see from the example below, we used this gorgeous gilded floral motif as a decorative accent on the interior of an invitation folder. That way, when guests opened up the package, they were greeted with an abundance of color and whimsy.