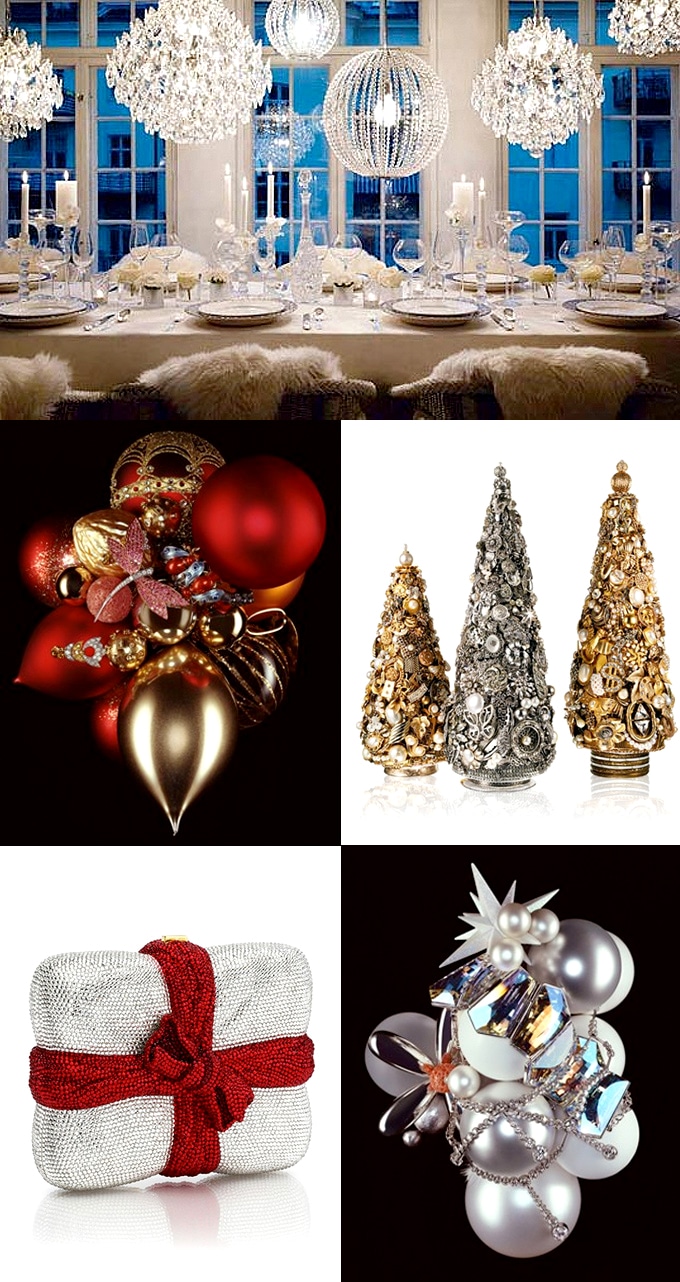 The Holiday Season is finally here and oh what a fun, not to mention inspiring time of the year to celebrate with family and friends! And amidst the holiday stress and preparations, it's always very important for me to remind myself about what this time of the year means to me. To me, this season is about more than just a plump, juicy turkey, a Christmas tree or the candles on a menorah. It's a time to gather with my friends and family, and share with one another how grateful we are to have each other in our lives. I feel so very fortunate to be in this business with so many wonderful and talented individuals who support us, not to mention the brides and grooms who trust us with bringing their vision to reality that I just want to take a minute to express my appreciation and sincere thanks.
On another note, every year I get so very excited about the holiday decorations and all the gorgeous things that designers, artists and stylish individuals from all over the world put together that makes each year so individually unique and special. This year sure didn't disappoint and I found some amazing inspiration and tablescapes that I'm excited to share with you today. This year is all about holiday glamor! Enjoy!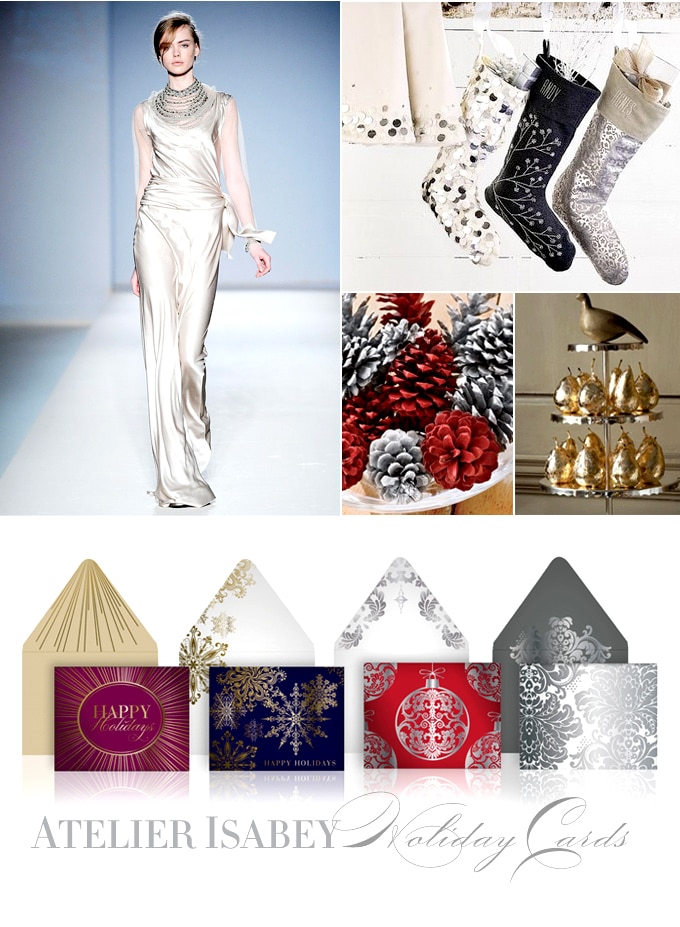 Have you seen our glamorous Atelier Isabey holiday cards? I fell in love with metallics this year and decided to bring my own flair and flavor to the mix with these luxurious holiday cards!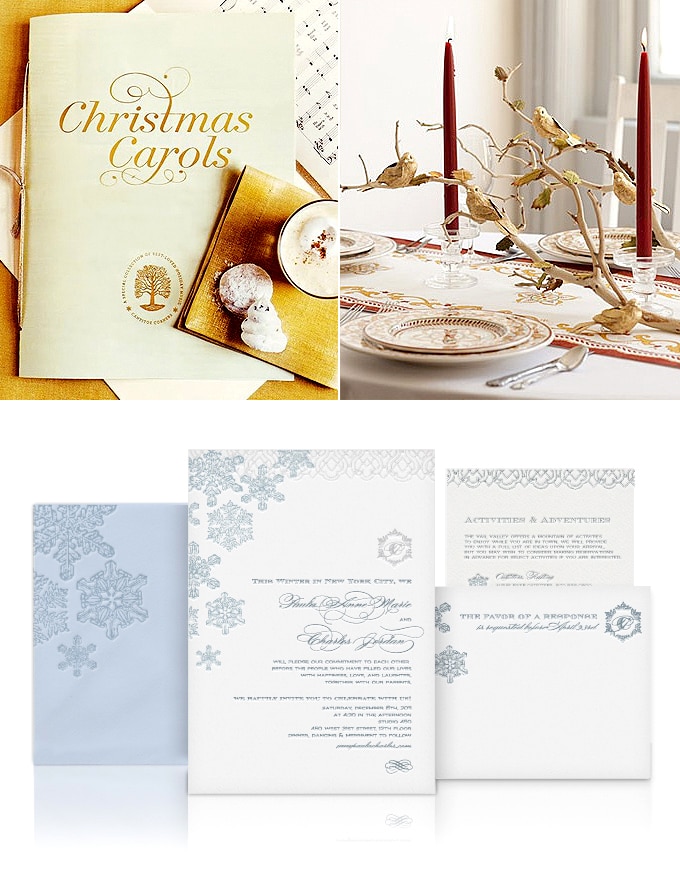 This Winter Wonderland inspired wedding invitation captures the season with a bit of a classic feel too!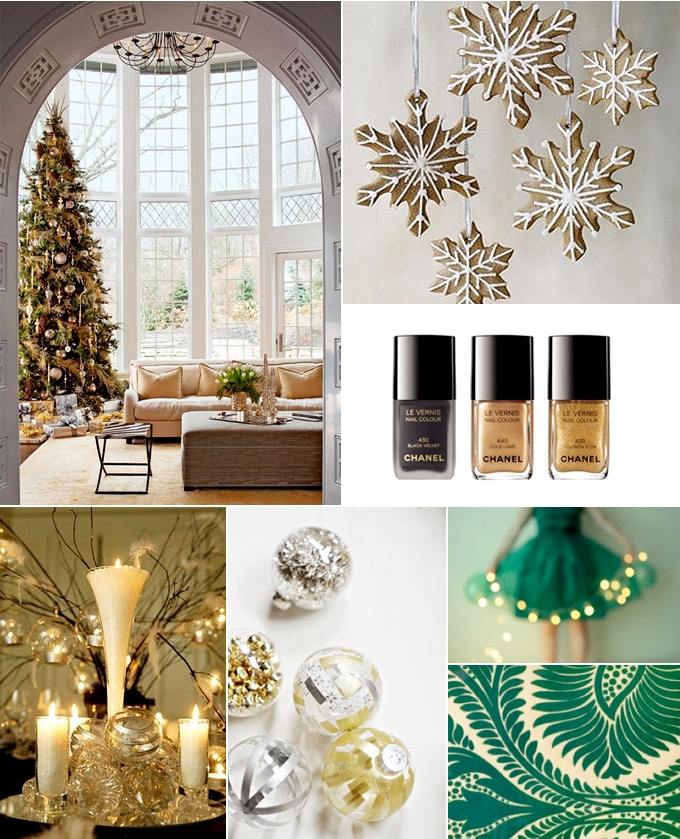 Image Credits
Tablescape via Splenderosa | Ornaments by Coppi Barbieri | Christimas Trees by Margaret Larkin for Bergdorf Goodman | Present Clutch by Judith Leiber | Ornaments by Coppi Barbieri | Evening Gown by Alberta Ferreti | Stockings by West Elm | Pinecones via Pinterest | Golden Pears via Design Decor Staging | Holiday Cards by Atelier Isabey | Christmas Carols by Martha Stewart | Tablescape via NDesign and Style | Wedding Invitation by Atelier Isabey | Living Room via Splenderosa | Snowflake Cookies by Delish | Nailpolish by Chanel | Candles via The Telegraph UK | Ornaments via Odessa May Society | Pattern via Christina Leigh Events