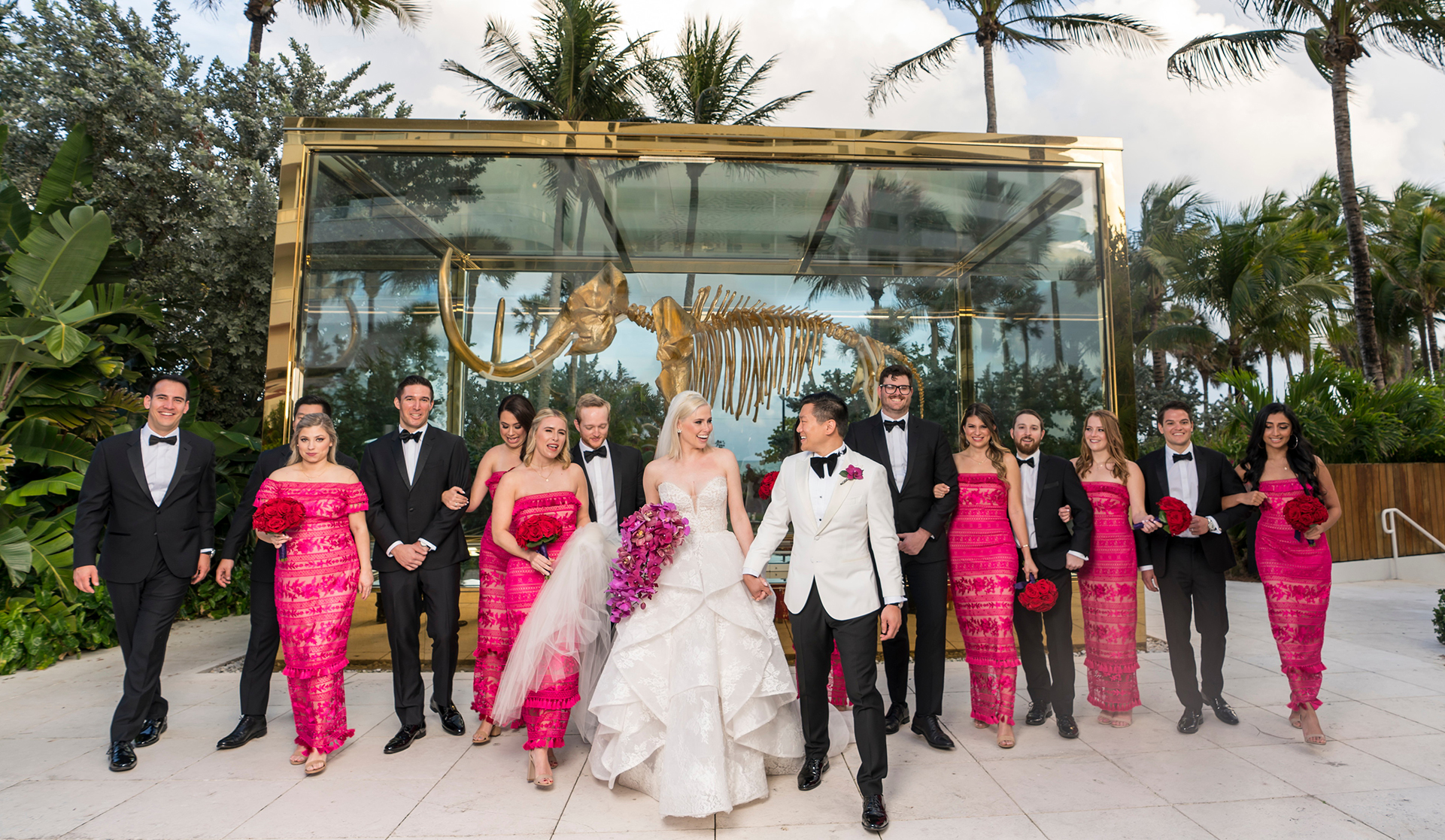 This week, we're excited to feature a very unique and stylish wedding in Miami, Florida. Hannah and Eugene planned and designed a spectacular wedding in the Faena Hotel and Forum, two venues nestled within the bustling Faena Arts District. Spanning several blocks of oceanfront it is home to several iconic architectural landmarks while also being a hub for arts and culture. Hotels like the Faena are most certainly not cookie cutter or forgettable to say the least which is why it was important to highlight and showcase all the unique qualities of this special place. Hannah shares. "I wanted to get married in Miami, where I grew up, and provide my guests with a South Beach black-tie experience. I centered my wedding at the Faena Hotel, a perfect representation of Miami's vibrant culture. Its venues are saturated with priceless art, rich textures, and vibrant color – particularly red. My favorite work of art at the Faena is the genuine mammoth skeleton that is plated in gold and encased in glass on the grounds. My inspiration was COLOR. I wanted the ultimate South Beach party exploding with tropical chic in fuchsia, purples, and Faena red."
It was important for us to design save the dates that would take center stage and kick off the celebration to come with a bang. We designed a one of a kind acrylic save the date made to mimic the iconic gilded mammoth by famed artist Damian Hirst which is encased outside of the hotel. We then created an invitation that took inspiration from the Faena Forum's iconic architecture and geometric façade. The entire stationery suite incorporated different print methods, textures, materials shapes and colors that all came together in a way that was both artistic and memorable.
The wedding day was everything and more with towering florals by Jose Graterol, striking linens by Nuage Designs and a bold, graphic dance floor printed with eye catching orchid flowers. No detail was left uncaptured by Suzanne Delawar and we're so excited we get to share them with you. We hope you love these photos and this wedding as much as we do.